The on-demand economy is at boom all over the world these days. Whether it is ordering food using your phone or buying grocery online, you can see on-demand economy examples in everyday life. The reason why this business model is so successful is because of its ease of use, well-monitored process flows and the quality of the product deliveries. These days people are busy with hectic work schedules, they do not have the flexibility to spend personal or family time. Professionals are making a bee-line to move from full-time jobs to on-demand work as it allows them to work when they want, where they want and on what they want to.

On-demand software development has come as a revolution in the software development industry. Since the software industry is so dynamic that it becomes challenging task for the companies to meet all the requirement and deliver the best. Let us take a small example and see how an in-house team operates and what are their challenges on a day-to-day basis.
Step 1. Project Signed
Step 2. Infrastructure
a.

Analyze requirement

b.

Plan your budget

c.

Shortlist vendor

d.

Purchasing

e.

Setup Infrastructure
Step 3. Hiring
a.

Identify Hiring need

b.

Plan your budget

c.

Create Job description

d.

Post and Promote Job opening

e.

Contact Recruiters

f.

Application Sorting

g.

Arrange Interview

h.

Applicant did not turn up

i.

Process Repeat

j.

Arrange Interview (Repeat)

k.

Screening Interview

l.

Talent Assessment

m.

Background Check

n.

Decision

o.

Candidate refused to join

p.

Again, repeat the whole process

q.

Candidate Joins

r.

Joining formalities

s.

Pay Commission to Recruiters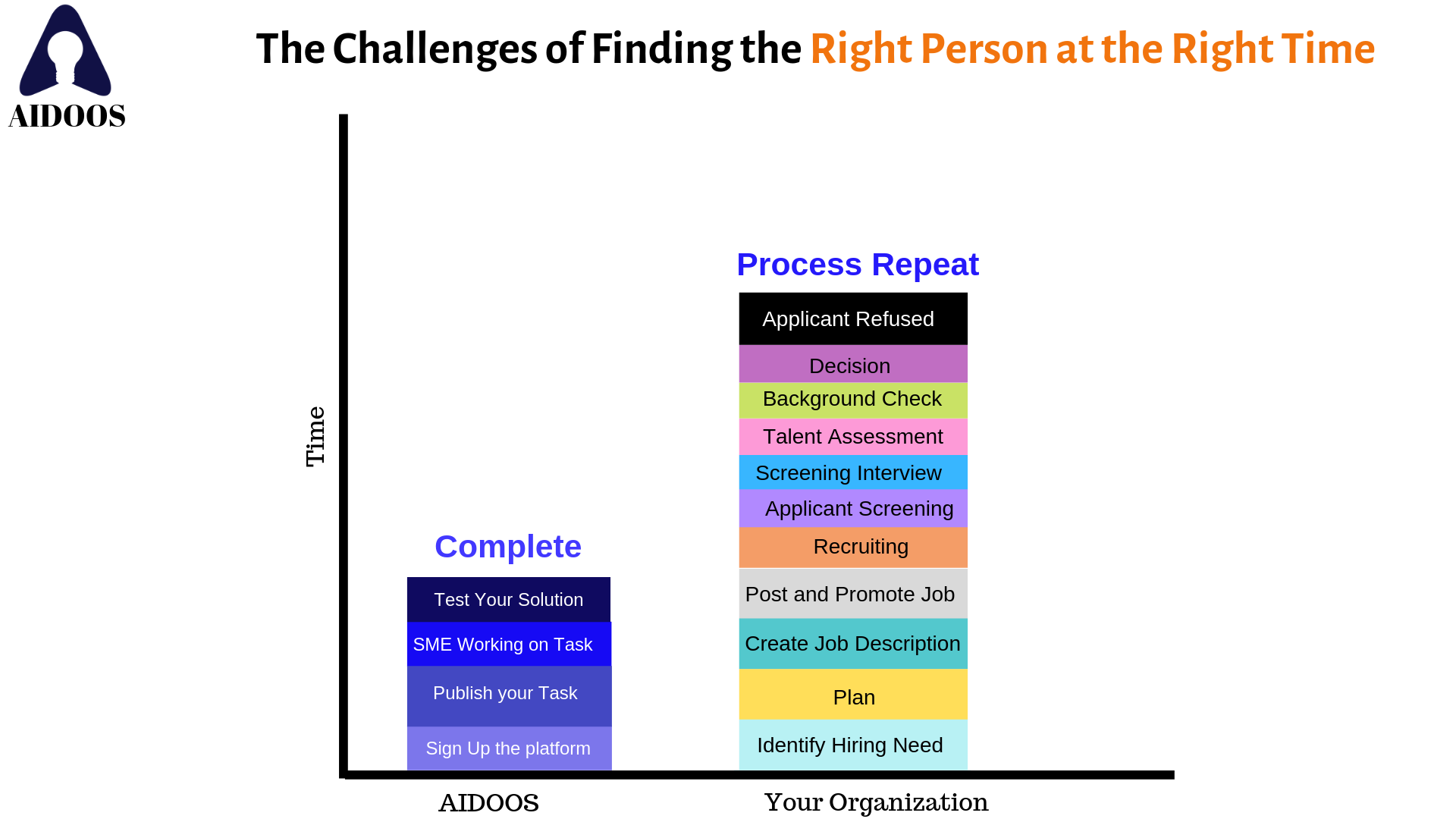 Step 4. Project – Software Development Workflow
a.

Analyze the project

b.

Estimate the efforts

c.

Write User Stories

d.

Assign Stories

e.

Queries about Stories

f.

Await client's response

g.

Team picks task

h.

Schedule Team Meets

i.

Team member on Leave

j.

Re-schedule Meeting

k.

Team picks task again

l.

John gazing outside the window

m.

Arrange sessions to motivate Team

n.

Team is back to work

o.

Fix merge issues

p.

Teams clashes

q

Missed Project Due Date



q. And so on…
Step 5. Testing – Testing Workflow
a.

Plan test goals and schedule

b.

Define test cases and method

c.

Evaluate test results

d.

Development of test components

e.

Automate some of the test procedures

f.

Performing integration tests and report bugs

g.

Performing System tests and reports bugs
Step 6. Bug Fixing
Step 7. Sending project to the client for review
Step 8. Client rejected the project due to some Major flaws
Step 9. Re-start project with better Analysis.
The above points might seem a little exhausting, but this is a reality which most of the organizations have accepted as the major cause of project, time and cost failures. In order to save organizations from these seen-unseen factors, on-demand Software development has emerged as a revolutionizing solution.
AIDOOS, is an on-demand software development services platform with selective, evaluated and trusted Subject Matter Experts located globally. Unlike other freelancing platform, AIDOOS works with SMEs which assures that they are well versed and updated with the industry trends. AIDOOS platform is built on Artificial Intelligence that picks and assign tasks based on the expertise of the SMEs.
Here are a few benefits that come with on-demand software development model and every business needs to jump onto AIDOOS to:
1.

Save Money – With

AIDOOS

you get to save money spent on infrastructure, overheads, operations, hiring, even monthly salaries. With

AIDOOS

you simply publish your task and wait for SME to deliver it to you for the review, once the task is approved, then you the payment is released just for your task.

2.

Save Time –

AIDOOS

works with Subject Matter Experts and follows Agile Methodology, which analyses the project and setup development goals as per the requirement. This gives you freedom from the analyzing and team management tasks. Thus, saves a lot of time.

3.

Assured Quality – Since

AIDOOS

works with Subject Matter Experts, it eliminates the chances of mistakes, hence, giving out a quality product.

4.

Agile Project Management –

AIDOOS

gives you the tools to manage your project and tasks directly on the platform. You can also import them from existing Project Management tools such as TFS or JIRA.

5.

Easy to Use – Unlike other freelancing platforms, you are not required to select freelancers, explain your project requirement. With

AIDOOS

, all you need to do is just publish your task, review and pay.
For more information about on-demand Software Development services, please visit https://aidoos.com/